Leverage the expertise of the most experienced ExO Coaches globally. Full ExO Value!
Share base cost with other teams & embed the Sprint in other ongoing innovation work in your organization
Sprint #3
​
Week of 2. November: Awake & Align Workshops (virtual)
Disrupt: 10 Dec 2020
​
Launch: 4. Feb 2021
Sprint #2
​
Week of 21st September: Awake & Align Workshops (virtual)
Disrupt: 30 Oct 2020
​
Launch: 4 Dec 2020
Frequently asked questions
Participants
How does the Sprint work?
---
Please go through this introduction page, where you will learn more about the ExO Sprint methodologies and how the Sprint process works: https://www.sprinthero.com/introcourse-participants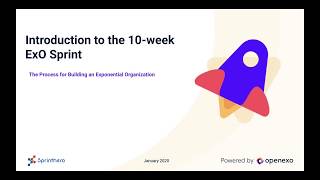 ---
What is the fee for joining the Sprint?
---
Visit this event page for more details on pricing: https://www.sprinthero.com/mcs-5wks. You find the direct link elsewhere on this page. There is a fee for the 5-week ExO Sprint including coaching, advisor call tickets and all shared activities. Optionally, your team can choose to register for participation also in the last 5 weeks of a 10-week ExO Sprint. You can choose to add that option when registering for the 5-week Sprint. The second half of the 10-week Sprint has a separate participation fee for your team
---
Can I decide for the 10-week Sprint after we start on the 5-week Sprint?
---
Yes! The Sprint is a 5-week process, where the last 5 weeks of a 10 week ExO Sprint can be added optionally. You can upgrade your already purchased 5 week Sprint to 10 weeks.
---
Can we bring our own Sprint team?
---
Yes you can! If you do not have the 5-8 persons it takes to set a Sprint team, then you can supplement your own team with participants you can choose to invite from one of your partner organizations -or you can decide to leverage open innovation at full by asking us to help you mix a team of both your team members and members from other organizations.
---
The start date in September does not work for me, is there a second chance?
---
Yes we will be doing more of these Sprints. You are recommended to register your interest in our contact form in the bottom of this page. We will be in touch informing you about the next Sprints.
---
---
When registering in the form to the right, you will receive role-based details and guidance on how to register yourself or your team to participate in the Sprint.
​
Register your interest early so we can make sure to keep you informed and help you in the preparation process.
​
This is a special chance to collaborate globally on solving huge challenges for your business and for society.
​
We look forward to hearing from you!
​
Lars Lin, Sprint Guide